Marine Receivers and Sensors
Marine construction presents its own unique challenges and requirements. No matter how complex your project, Trimble has marine construction hardware, software and positioning sensors to help you meet and exceed them.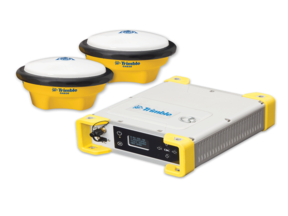 Precise Marine Dredging—No Underdredge or Overdredge
With Trimble marine systems, dredge to an exact depth, dump dredged material in a defined location and confirm depth with a multibeam hydrographic survey.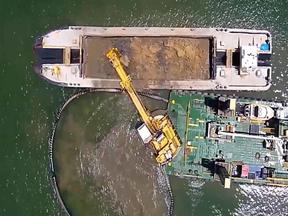 Features and Benefits
For permanently installed GNSS heading and positioning solutions or a flexible system that can be quickly deployed to different vessels, Trimble offers a range of receivers offering cost-effective solutions.
Precise GPS for Tide
Monitor water level changes in real-time, providing a more precise and cost-effective solution than conventional methods.
When connected to the receiver, Trimble Marine Construction Software can compute real-time water level calculations, removing the need for tide gauges and associated radio links.
Flexible and Reliable Components
Components share a common interface so you can reuse data and accessories across multiple applications. They are compatible with marine systems from other manufacturers to integrate with existing hardware and workflows.
Trimble GNSS receivers can receive corrections from a traditional base station or other virtual sources.
Configure the MPS865 receiver with Trimble Siteworks field software to use on site and on the vessel for field rover measure up, base station set up and topographic mapping.
Powerful Office and Field Software
Trimble Marine Construction Software and Trimble Business Center offer workflows for all phases of onshore and offshore marine construction.
For dredging and construction, combine the MPS865 receiver with Trimble Marine Construction software for accurate 3D visualization of the dredging process.
MPS865 Marine GNSS Receiver
The Trimble MPS865 is a highly versatile, dual antenna, rugged and reliable Global Navigation Satellite System (GNSS) marine positioning / heading solution.
Maximum connectivity: Bluetooth, Wi-Fi, UHF radio, cellular modem and two MSS satellite correction channels
Use base-station-free VRS onsite and communicate with the receiver via the internet and SMS
Use the receiver as a data access-point on the vessel to download design files or for immediate remote support
Stay productive with multi constellation support when in a congested marine site, or when antennas are partly obstructed on a marine vessel
Maintain precise heading without the need for GNSS corrections or a gyro compass to save money and space
Combining the receiver and heading in one uses less power and requires less cabling, ideal for small spaces
R750 GNSS Modular Receiver
The Trimble R750 GNSS Modular Receiver offers numerous features and benefits for contractors involved in marine construction, including:
Tracking all known constellations in challenging marine environments including nearby ships, tree-lined riverbanks and congested antenna locations on vessels
Many options for corrections sources including satellite-based, internet and radio
Internal radios for less cabling
Upgradeable accuracy levels to fit your needs, from Location RTK to Precise RTK
SPS356 L1 Beacon Receiver
The Trimble SPS356 GNSS Beacon receiver is the next generation L1 Beacon receiver that is capable of using RTCM DGNSS (multi-constellation) corrections when available. The SPS356 includes Wi-Fi, Ethernet and Bluetooth capabilities, expanding system integration and connectivity options.
The SPS356 is an ideal solution for a wide range of marine construction applications including:
Dredging
Positioning (tugs / anchors)
Navigation
Rock and material placement
Nighttime bridge operations
Bathymetric survey
The SPS356 includes Wi-Fi, Ethernet and Bluetooth capabilities, expanding system integration and connectivity options. Using Wi-Fi, the SPS356 can be accessed using any device with an Internet browser, including smartphones or tablets, for configuration and monitoring.
BX992 GNSS Receiver
The Trimble Marine BX992 is a dual-antenna multi-frequency GNSS receiver with precise heading capability. The Marine BX992 comes standard with GPS, QZSS and GLONASS installed.The BX992 provides scalable precisions up to centimeter accuracy position in a compact package. By integrating the latest GNSS technology from Trimble, it provides robust high accuracy positions and orientation. It offers MSS L-Band support for Marinestar or Trimble RTX services so the BX992 delivers precise position without the use of a base station.
Dual Antenna Input
The dual antenna input provides precise heading compared to single antenna systems which have difficulty determining position relative to the object of interest, especially when dynamics are low.
Rugged, But Flexible Interface
The BX992 offers easy integration and dependability. The BX992 is built to perform reliably and rigorously in harsh environmental conditions.
Features
2 x 336 Channels for multi-constellation GNSS support
Marinestar/RTX Support
Compact design for mobile applications
Flexible RS232, USB and Ethernet interfacing
Scalable accuracies to Centimeter level positions
Advanced RF Spectrum Monitoring
Rugged IP67 Enclosure
Other constellations available via upgrade
Meet Our Customers
Learn how customers around the globe are using Trimble technology to be more efficient and profitable.